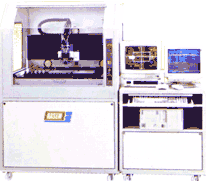 Oferecemos também outras Furadeiras, tais como:



CCD Positioning Controlled CNC Drilling/ Routing Machine RSM-980D


CCD Positioning Controlled CNC Drilling Machine RSM 980DII


PCB Separator Machine RSM-200C

Provides precise drilling and routing for sample boards making.


Easy operation by using program editor and chines computer screen.


Motoerised joy-stick system with teaching program, workplace can inspect automatically to provide efficiency and accuracy.


Automatic or single-step run mode to check coordinates.


Built in coordinate math function such as displacement, ratation, sorting, copy, or mirror.


Compatible with PCAD - PADS - PROTEL and EXCELLON format, and convertible to CAD file function.


Multi-paramenters meet the variety sample boards request.


Equipped with collector and cooling system.


Equipped with auto - change and inspecting tools.